Industry Specific Solutions
We recognize that every client has requirements that are unique to their business and industry sector. With our comprehensive knowledge of a wide variety of industries, we can offer you the most appropriate products and services to introduce innovation to your facility, enhance your competitive edge and increase your bottom line.
Agri-Business
Automation is a growing trend across all industries, and agriculture is no exception. Unprecedented population growth, urbanization, and climate change are contributing to an increasingly complex and dynamic agricultural landscape.
Whether it's lowering costs, maximizing quality or increasing production, we have experience in greenhouse automation, grain and material handling, milling operations and biogas production. From process control applications to conveyance and product tracking, our knowledgeable team can integrate systems from the farm to the consumer and all stops in between.
Automotive
The automotive industry is no stranger to being on the leading edge of what's new and challenging, especially when it comes to factory automation, robotics and innovation.
The RidgeTech team has extensive experience in the automotive industry. From presses and body shop solutions to paint, assembly and test stations, we have integrated thousands of robots, PLC's, HMI's and vision systems across a multitude of control platforms. We understand the unique challenges faced by automotive manufacturers and the high demands they have for safety, quality and making every second count.
Consumer Goods
The consumer goods industry demands flexible, cost-effective technologies with a focus on quality and traceability. Every step in the manufacturing process counts in this highly competitive industry.
RidgeTech works with our consumer goods clients to implement robotic solutions capable of operating at incredibly high speeds while delivering the precision required for tight tolerances. We recognize that clients in this industry require the combined assurances of efficiency, improved shelf appeal, and safety. Our skilled engineers offer the latest technology in inspection and automation, along with serialization to ensure brand quality while greatly reducing the risk of a recall.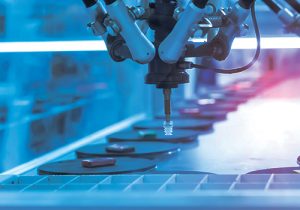 Energy & Utility
As the world's demand for energy increases, so does the need for safe, sustainable production and distribution methods.
RidgeTech has experience designing and implementing control systems for everything from biogas production, to distribution networks for wind farms, to automated welding of nuclear boilers. We also design and install energy monitoring solutions and reduction strategies to help clients conserve wherever possible.
Food & Beverage
The food & beverage industry is quickly realizing the benefits of automation & robotics and expansion in this area is increasing exponentially. As producers struggle to find people to operate their facilities, they are continually turning to automation to help solve their labour shortages.
RidgeTech knows the stringent demands around food safety and traceability. We have extensive experience with hygienic designs and sanitary environments and we also understand that the majority of food production lines consist of machinery and equipment produced all over the world and running on different control platforms. We excel at developing strategies to integrate different machines into the same line including batching and blending systems, check weighers, x-ray and metal detection equipment, packaging machines and palletizing systems.
Mining, Metals, & Aggregates
From precious metals to minerals, cement and aggregate processing, today's mining operations use new technologies to achieve efficiencies, improve safety and limit environmental impacts all while trying to improve the bottom line.
At RidgeTech, we use the latest smart technologies and industrial innovation practices to help our mining clients manage their operations safely and efficiently. From data collection and OEE dashboards to automated test systems and energy management, we support our clients from miles below the ground to their processing facilities.
Packaging and Palletizing
As an industry within many industries, packaging and palletizing systems can be found in just about every manufacturing environment. The benefits of automating the packaging and palletizing functions of a production line can equate to huge cost-savings and significantly improved quality.
We work with clients in both manufacturing and distribution to implement control strategies around their automated packaging and palletizing systems that offer the safety and flexibility required from working with all different shapes and sizes of products. From area safety scanners to RFID and bar code readers to vision guided robots we offer safe, flexible and reliable solutions you can count on.
Pharmaceutical / Life Sciences
With aging populations increasing the demand for efficient healthcare and pharmaceutical solutions, automation is becoming an important component in the life sciences industry. Increasing production and improving product traceability are two of the major areas where robotics are providing an edge.
We work with our pharmaceutical, biotech and consumer health clients to integrate solutions on both new and existing lines. We have experience integrating end to end systems including form-fill-seal machines, weigh systems, sterilizers, leak detectors and packaging machines – all from a variety of manufacturers utilizing an assortment of control platforms. We can architect a control system that makes any number of differing machines appear seamless to your operators.